A tractor trailer is the combination of a tractor unit and one or more semi-trailers designed to carry bulk freight. A semi-trailer attaches to the truck with a type of hitch system called a fifth-wheel. The fifth wheel is permanently attached to the semi truck. The king pin is a part of the semi trailer. The truck backs the fifth-wheel under the trailer, lining it up with the king pin until it locks into place.
There are many names for tractor trailers: a transport truck, semi-truck, trailer truck, tractor truck, truck tractor, transfer truck, articulated truck, semi-trailer, tractor-trailer, semi-tractor, tractor, sleeper cabs, big rig, and of course eighteen-wheeler.
COMMERCIAL VEHICLE SIZE RESTRICTIONS
The size of commercial vehicles is controlled by federal regulations that are set by the U.S. Department of Transportation. The trailer's total length can vary from 48 feet to a maximum limit of 53 feet.
How wide is a tractor trailer? 8.5 feet (102 inches)
The standard measurement for the overall width is usually no more than 8.5 feet and the legal height is maxed at 13.5 feet. These are the standard semi-trailer dimensions used across U.S. highways.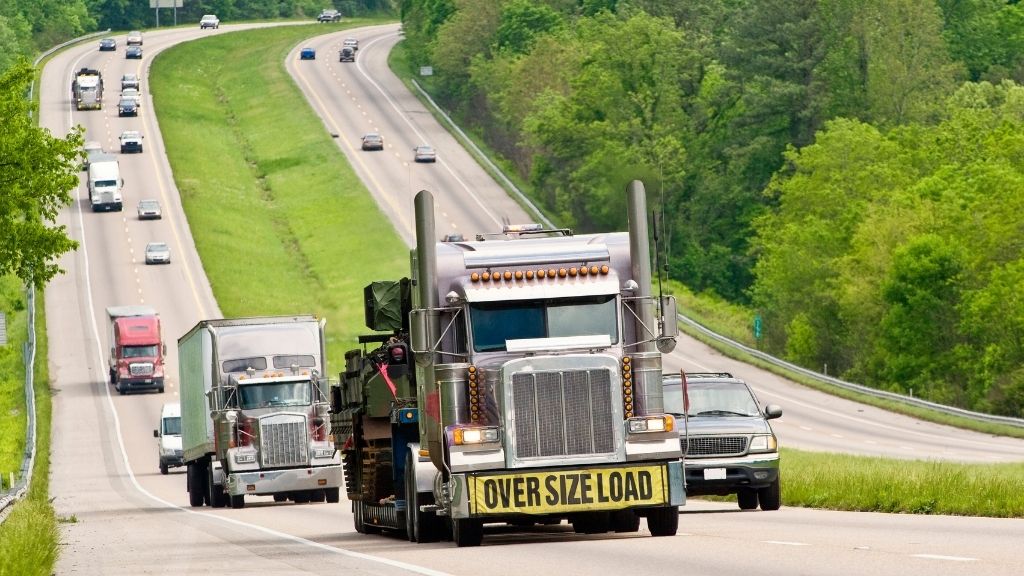 Anything over 8.5 feet wide is considered an oversized load. Shipments exceeding 12 feet wide require at least one pilot vehicle, usually in the front leading the way for the oversized load. However, pilot car guidelines vary by state. There are times where two pilot vehicles are required, with one being in the rear. You'll see this when mobile homes are being transported. Special permits are required for anything over 8.5 feet, with other requirements varying by state. Click here for state-to-state restrictions
FMCSA Pilot Car Escort Best Practices
STANDARD DIMENSIONS OF SEMI-TRAILERS
There are several types of trailers, but most fit into two categories: enclosed and open
Commercial trucks have maximum weight restrictions. They can be as heavy as 80,000 pounds for gross vehicle weight that includes both the tractor and trailer. The weight limit also includes anything on board, even the driver. This is commonly divided with up to 12,000 pounds over the steer axle (front wheels of the truck) and 34,000 pounds over the drive (truck's rear axles) and the trailer's tandem axles. The number of axles determines the legal weight. Regardless, the combination tractor-trailer should not exceed a load weight of 80k lbs.
The legal width and height of semi-trailers varies because of different regulations from state to state. To prevent varying regulations with different states' guidelines on truck sizes, the federal government regulates the dimensions on interstate highways.
Texas laws allow twin trailer semis up to 59ft in length. Most of the time you will not find a limit on the tractor size, but overall length dimension restrictions can sometimes apply to both the tractor and semi-trailer, depending on your state's law.
In Arizona, a 53 foot 6 inch trailer may travel on US highways throughout the state, but non-Interstate roads have maximum length allowance for trailer dimensions capped at six inches less. Other states have a smaller maximum semi trailer length on state roads, with the range capped at 48ft.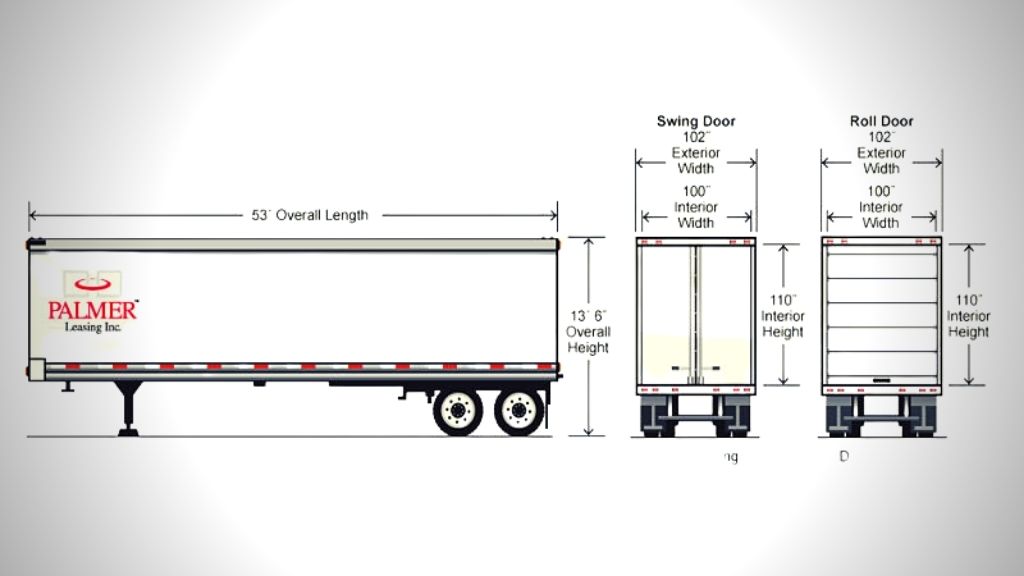 DOUBLES OR TWIN TRAILERS
The push for longer double trailer lengths in the trucking industry is primarily coming from large carriers that haul relatively smaller freight shipments. FedEx, UPS, Con-way Freight, and BFI are just a few of the trucking companies that utilize twin trailers.
Semi-trailer combinations (twin trailers) with two 33-foot trailers needs 22 more feet to stop than the current configuration of two 28-foot trailers: That extra distance is roughly the length of 2 regular passenger cars.
You'll also notice that many of these major companies have Indiana license plates. It's less expensive to register a tractor trailer in Indiana. The savings may be small, but when a company has hundreds if not thousands of semi-trucks, that reduction in government fees can be significant.
DIFFERENT TYPES OF TRAILERS
Enclosed trailer types: A straight truck, or box trucks and dry van trailers are used to transport a wide range of items that need protection from the outside elements. These items are most commonly stored on pallets for load/unload efficiency with a forklift or pallet jack. The trailer floors are stout, and capable of not just handling a large load of consumer supplies but also the forklift that that makes the job easier and quicker.
Much the same as dry van semi trailers, reefer semi trailers are enclosed, but are equipped with a refrigeration power unit for products that require climate control such as produce and frozen goods. Both commonly have a length of 48 to 53 feet with the latter being the maximum legal length of a trailer. There is also a maximum legal width of 102 inches, which is 8.5 feet.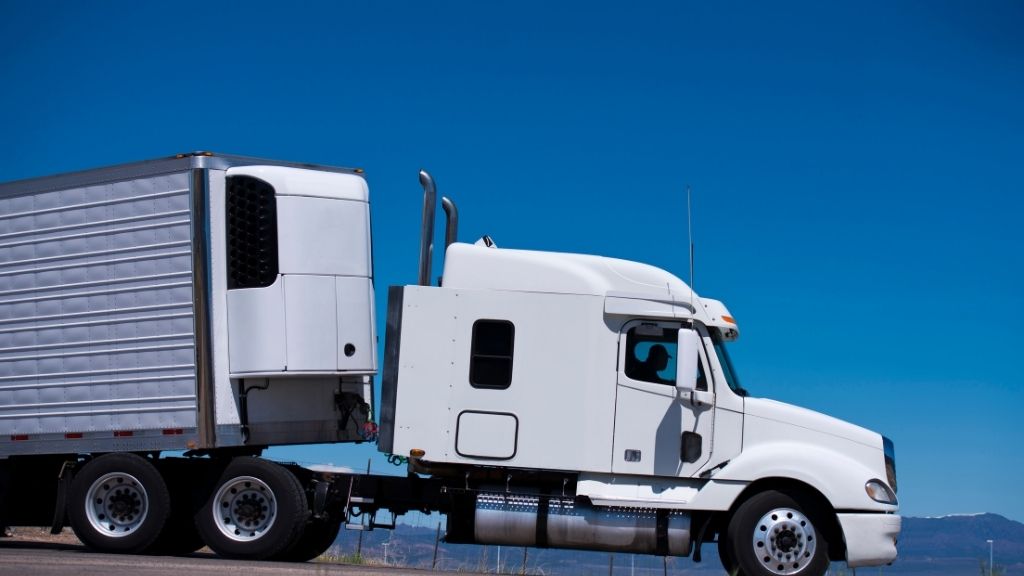 48 and 53 feet are the standard trailer lengths that we see on the highway. Rarely will you see a trailer of this length smaller than 8.5 feet wide. Trucking companies, or any sort of transportation business, will utilize the maximum allowable limit in order to make the trip most effective. They may not always need such a large trailer, but they would rather have it and not need it than need it and not have it.
Intermodal containers look almost identical to semi trailers and are also designed to be enclosed, but are hauled on a train car for the ability to utilize the rail system. This saves money on fuel cost and other highway transportation expenses for items that are not time sensitive. There is no rush on these loads. This method is more substantial when shipping in or out of a major market, a big city, and when trips lengths are upward of 1,500 miles.
The trailer dimensions for the intermodal commercial vehicles are similar to the dimensions of the other enclosed trailers. The overall length limit is still 53' and the maximum width is 8.5'. You'll often see semi-trailers secured to railcars heading down the track.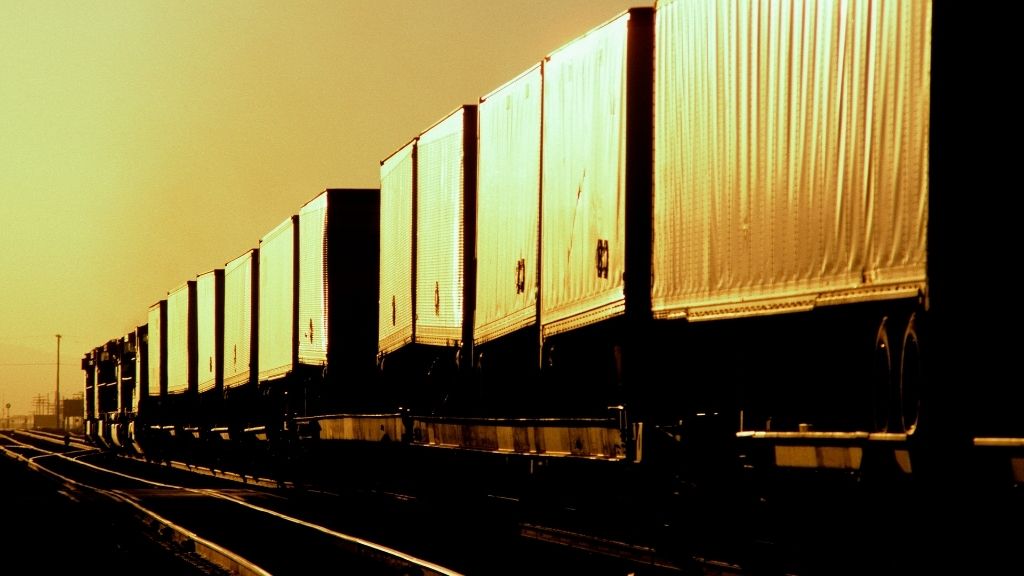 The smallest enclosed commercial trailer is referred to as the pup trailer. This trailer type is used for hauling small shipments of local freight secured on pallets. The smaller overall length of 28 feet, while still utilizing the standard overall width of 102 inches, makes this transport truck more versatile. I has the ability to maneuver small corridors, unlike the longer semi trucks.
Open trailer types: The flatbed trailer is used for transporting a large load of heavy or oddly shaped products. The open sides of flatbed trailers are equipped with trailer beams. These beams allow for securing the load with straps or chains. It is also where bungie cords are attached when covering a load with the heavy duty PVC-coated polyester tarps.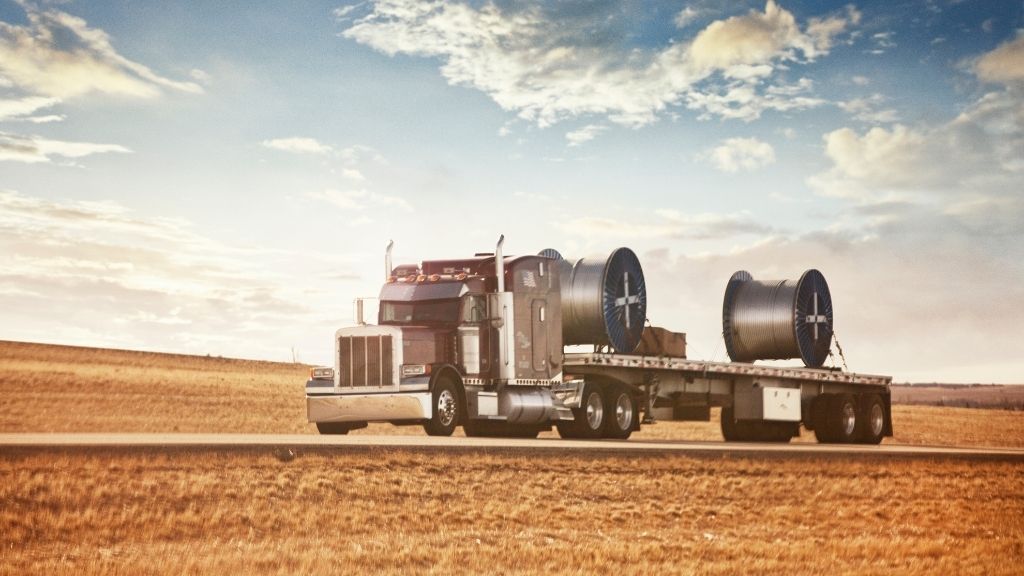 WEIGH STATIONS
Weigh stations are used to check a truck's weight to ensure it is not operating over capacity and is compliant with state and federal laws and safety guidelines. The loaded weight also determines what commercial driver's license is required (Class A vs Class B CDL).
The weight of a truck is usually calculated in two measurements:
Axle Weight – The amount of weight carried by each tandem axle on a truck. This is found by dividing the total weight of the load and trailer by the total number of tandem axles and then adding the weight of the tractor or pickup.
Gross weight – The combined weight of the load, trailer, tractor, and any added accessories carried by all the tandem axles.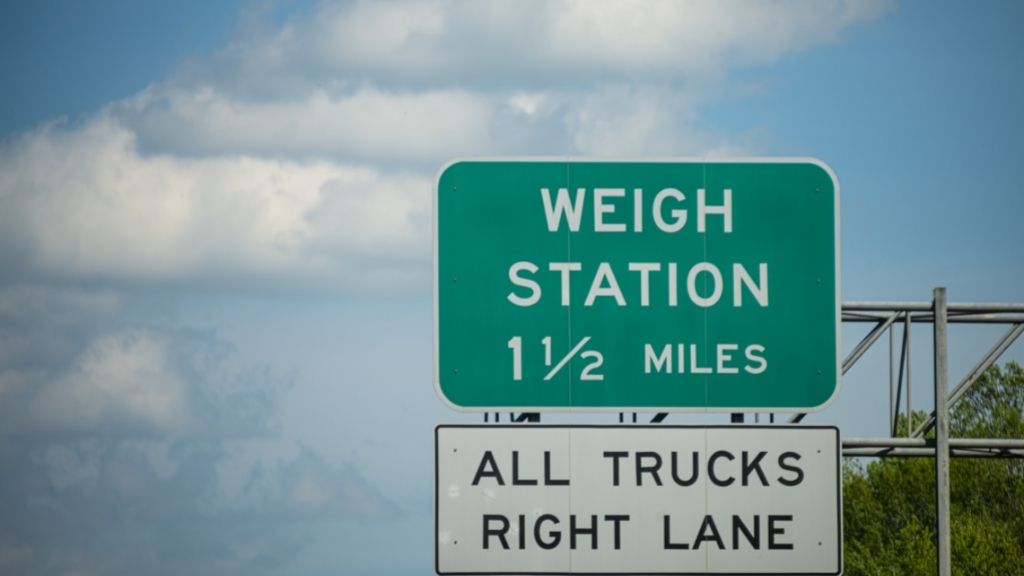 Commercial truck weigh stations are vital for maintaining safe road conditions. Inspecting the tractor trailer prevents overweight trucks from mistakenly using highways or bridges that cannot handle the truck's maximum freight weight. Trucks that are operating over the legal weight can cause damage to roads and bridges, causing the use of taxpayer money to make repairs.
Many states collect taxes on these transported goods based on how much weight is being hauled. This makes truck weigh stations a significant resource for more than just safety. With the damage a full trailer can cause to national highways and access roads, it's important that a tax is collected based on their weight.
MANDATORY SAFETY EQUIPMENT
Commercial vehicles require certain equipment for vehicle protection and for the safety of the truck drivers and any passengers. The DOT officers working the weigh stations have the authority to write citations when this equipment is absent from the truck.
Service technicians help ensure that each truck has the following safety equipment on board:
Portable Fire Extinguishers – proper type, size, and rating
Emergency Reflective Triangles – warning devices for stopped vehicles
Wheel Chocks – prevent accidental movement of vehicle while parked
First Aid Kits – to match the maximum capacity of persons per vehicle
The United States Department of Transportation (USDOT) and the Federal Motor Carrier Safety Administration (FMCSA) regulate the safety of commercial motor vehicles used on highways for transporting passengers or commercial goods.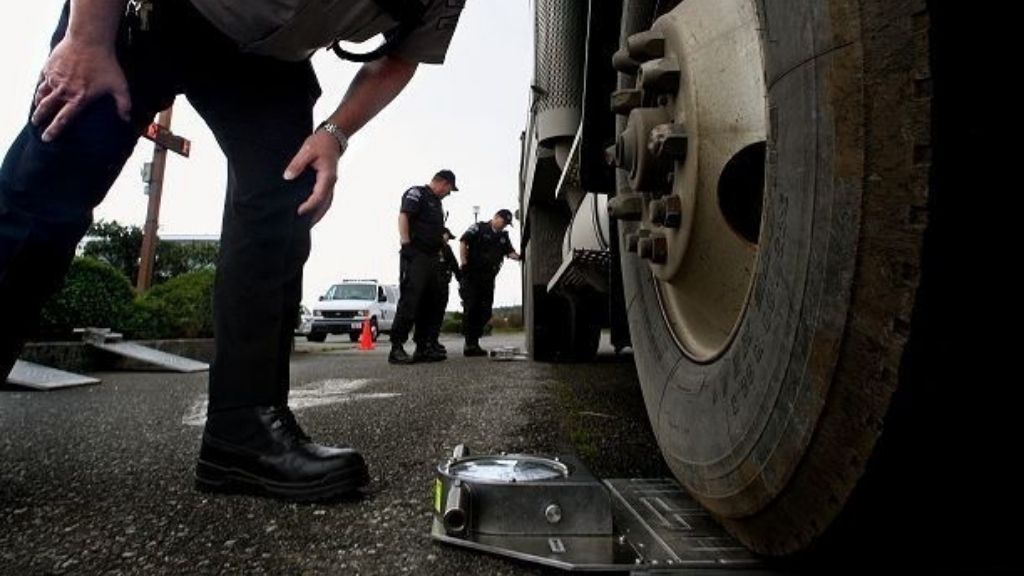 FMCSA regulation 49 CFR Part 393.95 requires safety equipment on commercial trucks, truck tractors, and passenger vehicles (buses) with the following specifications:
Buses for-hire with over 8 persons and with over 15 persons regardless of compensation
Vehicles transporting hazardous material requiring placards
THERE'S REASONS FOR REGULATIONS
All of these regulations, even the dimensions of the tractor-trailer, are primarily for safety precautions. If you've every pulled a trailer behind your vehicle, you know to watch out when making turns. Imagine that trailer being 4 times longer. You can see why commercial trucks and trailers have so many state and federal laws. You can see why there is a there's rules and regulations when pulling a semi trailer.
Interested in starting your own trucking or hotshot business? Click here for your step-by-step guide
Was this article helpful?